Organic Hemp Protein Powder | 1KG
Product packaging may vary
BBE: 12+ Months
Product description:
Hemp protein powder is a rich source of natural plant-based protein, consisting of 49% protein and containing all essential amino acids. Along with protein, it is also rich in magnesium, iron, zinc, copper, manganese and omega-3 fatty acids - a true superfood! Our hemp protein powder undergoes rigorous testing, like all our products, to ensure the highest level of quality. Its subtle nutty flavour makes it a great addition to post-workout smoothies. You can also add it to yoghurt, porridge and baked goods for an extra protein boost.
Organic, Vegan, Gluten-Free and Kosher
49% protein
Ingredients: 100% Organic Hemp Protein Powder
Allergen advice: Packed in a facility that handles nuts
Customer Reviews
Write a Review
Ask a Question
11/17/2020
Anonymous
United Kingdom
I recommend this product
Hemp organic protein powder
I ordered and paid for 6 packs of 1 kg to be delivered but only 4 kg were delivered in the box together with a shipment sheet stating 4 items only. This is totally unsatisfactory. Can you tell me when you will deliver the missing items. Thanks.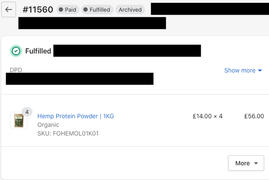 11/17/2020
Superfood Outlet
Hi there, Thanks for the review, although sorry to see you're dissatisfied with the service. I've looked into this for you and can confirm you only ordered 4 x Organic Hemp Protein Powder? Please see screenshot of your order. Apologies for any confusion but you received exactly what was ordered. Please let me know if there is anything else you need help with. Regards, Dan
11/04/2020
Anonymous
United Kingdom
I recommend this product
Happy hemp!
Very happy with the product. Got it for a really good price as it was on offer. I use hemp powder in baking, mix it with yoghurt, use it with my home made crushed seed mix to boost the goodness.
11/04/2020
Michael S.
United Kingdom
Hemp Protein powder, part of a balanced diet
Never used this before , but it is part of an overall juicing diet. Looks very good, l have used it three times now by adding it to stir fry foods. Looking forward to experimenting with other dishes
10/28/2020
Nigel H.
United Kingdom
Hemp protein
Very tasty and a good price due to short shelf life expiry. However, £5 p&p seems excessive.
08/24/2020
Anonymous
United Kingdom
Perfect
Great delivery, really quick and excellent quality product. Very happy, would definitely recommend